Welcome!
Tea and spice for joy and health – that's our mission. Spices and teas are Nature's flavor makers and health givers. Our shop in Laguna Beach is a delicious sensory experience and a fun place to discover spices and teas! If you can't make it to the store, enjoy shopping on our website.
Our Specialty: Indian Made Easy
Our Indian Made Easy line of products is our raison d'etre! Crafted from our family's Indian tea and spice recipes passed down from generation to generation, these are an ode to our grandmother who was the best Indian cook ever.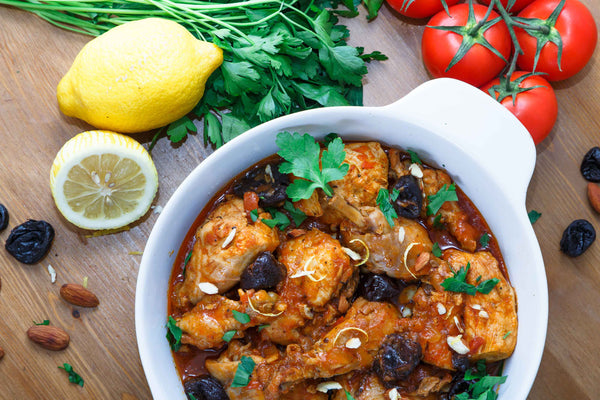 Featured Recipe
Easy Chicken Tagine
A simple and flavorful Moroccan inspired chicken tagine that is so easy to make. Perfect for a weekday dinner and delicious enough for entertaining.
"Absolutely love this place..so many different types of spices and teas. I come here regularly for my spices. Highly recommend! Excellent customer service also."

"I would give ten stars if possible! I love this place and the owner was so gracious and helpful. She makes a special blend of spices that have been passed down for generations. I used the spices tonight and the chicken was top chef quality. You can tell the difference when you open the spice jar. It smells amazing. Throw away your grocery store spices. They don't come close to the quality of this store and make a world of difference in your cooking!"

"This place is literally amazing. My girlfriend and I are planning to come like once a month because there are literally so many things we can't wait to try. The spice blends are rich and flavorful. The teas are so unique - blends of tea that I've never seen elsewhere and can't wait to try. We met one of the new owners today (Vidya) and she was so kind and friendly and helpful and knowledgeable. Highly recommend you come for a visit and explore all the deliciousness. 😍"

"Love love it here! the variety of teas and spices is amazing and it's such an amazing environment too. owners are so sweet and passionate and know so much about the herbs and share so much useful info!!"

"My wife and I spent the weekend in Laguna Beach and stopped by Tea and Turmeric. We had an amazing experience chatting with the store owner. She helped us find special teas we wouldn't have normally looked at and helped me to find the right decaf blends. She even taught us the perfect way to brew and prepare chai (her mother's recipe)!"

"My friend Kim gave me a beautifully boxed selection of Indian spices for Christmas and I haven't stopped using them. Enclosed was also a little International recipe pamphlet from which I cooked 2 terrific dishes. My husband mistakenly packed the pamphlet and shipped it to our home in Connecticut so I've had to wing it since then. Fortunately, it's not a problem with these perfectly nuanced, deliciously innovative spices that are handmade by the owners. I'm a serious cook and cookbook writer so I've gone through a quarter of my "GG" bottle (garlic and ginger) already. I'm so thrilled to have discovered these two sisters and their delightful little shop. I will be ordering from my home in Connecticut and refilling the glass jars in which I received the original gift. If you're in Laguna do not miss visiting this gem of a culinary store."
Welcome to first week of our four week series on how combat holiday fatigue and stress. The holiday season often brings a rush of excitement and a whirlwind of activities, leaving many of us feeling...